TERRITORY
CAMPIGLIO IN WINTER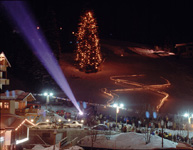 An uncontaminated environment is the natural setting for the many snow activities in Campiglio: from peaceful tours in snowshoes through the most private and striking valleys, to the most adventurous alpine ski trails, all the way to the unique experience of ice climbing for the boldest visitors.
The Centro Fondo trails wind among the glades and the woods of Passo Campo Carlo Magno: 15 km of different types of trails for cross-country skiing suitable for both the skating style as well as the classic style; while in the heart of town it is possible to take a spin skating on an ice-covered lake.
A fine group of instructors offers the opportunity to learn and practice skiing and the emerging sports of snowboarding and carving at a high level.
CAMPIGLIO IN SUMMER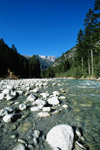 In summer, there are incredible opportunities for mountain lovers: paths, prepared trails at varying levels of difficulty, mountain bike trails, golf, tennis, fishing, and rock and mountain climbing.
The allure of an alpine hamlet at 1,500 m where nearby lakes and streams, shelters and shepherd's huts will carry you off and immerse you in nature to enjoy all the wonder of the Brenta Dolomites.
The protected area of the Adamello Brenta Natural Park embraces a fairytale line-up of spires, great towers, and unbelievable overhangs for a breathtaking landscape. Here, many striking hollows are located, such as the Val Genova and the Val di Tovel, each with its own characteristic landscape.